Made in Germany – since 1976
From Porta Westfalica to anywhere in the whole world
High-quality switching devices for machinery and plant engineering
Welcome to ASA Schalttechnik. We have been developing, producing and selling mechanical, magnetic and electronic switching devices since 1976. Our well-proven and affordable products are available for fast delivery ex works. And, if required, we can also manufacture customised special solutions in small quantities.
As a flexible manufacturer, we co-operate closely with our demanding customers to find optimal solutions for them.
Our innovations are relevant, have virtues and with respect to quality are well thought out. That's what we represent.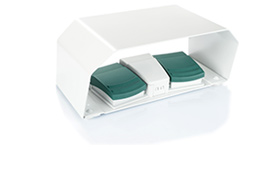 Contact our sales team - we will be happy to advise you and offer you the optimal solution.
Our mission is to provide reliable and proven technology and smooth processes – spanning all industries within the area of machinery and plant engineering. ASA Schalttechnik proudly stands for this philosophy and delivers every time. As a family-owned enterprise, our products offer "Made in Germany" quality and of course with passion, craftmanship and expertise.
Quality is a never-ending process. An infinite cycle of testing, analysing, understanding, learning, optimising, and documenting. We believe in the zero-fault principle, coaching and training our team accordingly. ... More information
"In production, customer relations and management, we do everything to achieve best prices, products, delivery times and services. We are pragmatically oriented and offer proven German quality. And that's a promise!"
Michael Waskowiak
Managing Director